Diary Archive 2016
13th December 2016
Lord of the Flings, Uncaged, London – Act: the Nazgul
26th November 2016
"Show Me Your Moves" @ The Loading Bar, London
18th November 2016
Special Krumpet Klub "Femme Fatale" night @ Fontaines Bar, Stoke Newington, London N16
4th November 2016
Album Launch at T-Chances, London – Act: Pretty Polly
7th October 2016
Private party booking, Chelmsford – Act: Stray Cat Strut
30th September 2016
Neo Burlesque Awards, London.
29th September 2016
Photo Shoot with Maryann Morris.
21st – 23rd August 2016
Edinburgh Fringe Festival – I'm performing in tent 2: 'Best of Burlesque', along with alternative 10pm late shows at the BADOS BAR.
Saturday 20th August 2016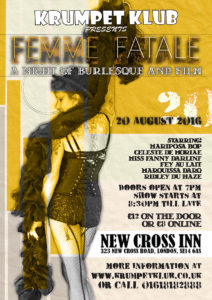 Krumpet Klub presents FEMME FATALE – a night of film noir and strong female character-inspired burlesque performance. Come along and enjoy a spectacularly sexy and chic night at The infamous New Cross Inn, New Cross, London SE14 6AS on – tickets are now exclusively available at a special 'early bird' price on the Krumpet Klub website.
Friday 12th August 2016
'SHOW ME YOUR MOVES' computer game burlesque late show, Novotel Hotel West, London, W6 8DR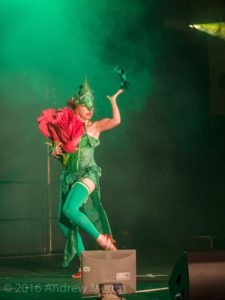 Tues 26th July 2016
Compere for INFINITEASE, London, W1
Sunday 24th July 2016
NUDE CABARET vs CANCER calender shoot